49ers 75th Anniversary Silver Bubbly
49ERS10
This product is currently out of stock.
Get Notified When Back In Stock!
Thank you! Check your email soon for more details.
Sparkling White Wine
Bottled by Mano's Wine | Woodridge, IL 
11% ABV
Description: The San Francisco 49ers and Mano's Wine have partnered to create a Limited Edition collection of wines. Enjoy responsibly and share with the fellow 49ers fans!
Reviews
Customer Reviews
Write a Review
Ask a Question
11/05/2021
Nancy H.

United States
Beautiful
Saving to drink on a special occasion but the bottle is beautiful!
10/24/2021
Susie

United States
Great
I just love my bottles. Great looking bottles and great taste.
10/07/2021
Angelique P.

United States
Beautiful as always!!
This is my third order with Mano's Wine and every time they always amaze me at what a wonderful job they do!! You won't be disappointed and if anything should happen to not be up to par, their customer service is phenomenal! I collect these wine bottles, I haven't tried the wine yet, they are just too nice to open. Enjoy!! Go Niners!!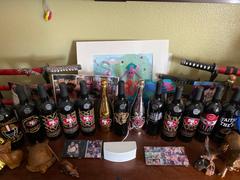 Please confirm Custom Fields before continuing
Confirm fields Return to product
You must be 21 to enter
Please confirm your age.