49ers 1994 Championship Season Etched Wine
SF94
This product is currently out of stock.
Get Notified When Back In Stock!
Thank you! Check your email soon for more details.
Handcrafted Reserve:
California Cabernet Sauvignon 
Full Bodied 
Dry Red with a smooth finish
13.5% ABV
Description: 1994 Season, January 29, 1995. In a nearly flawless performance, the San Fransisco 49ers earned their fifth championship over San Diego at Joe Robbie Stadium, The 49ers scored twice on their first seven plays, jumping out to a 14-0 lead just four minutes into the game. San Fransisco continues to scorch the San Diego secondary, finishing with six touchdowns through the air. The victory helped the 49ers secure a place in pro football history by becoming the first team to win five championships since the league merger in 1966.
Reviews
Customer Reviews
Write a Review
Ask a Question
08/31/2020
Gus

United States
PERFERCTION
Being a die hard 49ers fan this bottle was perfect. The attention to detail was excellent. This is the 2nd 49ers bottle of wine I have ordered and Mano's communicate everything from shipping to delivery dates. The experience has been incredible. I will be ordering the rest of the 49ers collection soon.
06/21/2020
Ron

United States
High quality and attention to detail makes this awesome
This was a gift for my son and his wife for their anniversary. I received excellent communication every step of the way with Mano's. They let me know when the bottle was being engraved, which also included information on the company history and where the work was being performed. I was notified of the shipping and arrival dates. The bottle looked great as my son and daughter-in-law sent me pictures. The entire process and resulting item was top-notch!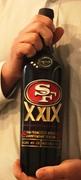 Impressed
My order arrived quicker than I thought and looks beautiful. I am impressed with the craftsmanship of the bottle and with the ease or ordering and receiving package. I cant wait to give it as a gift for my husband's birthday who is a dire hard 49ers fan and enjoy the wine.
Please confirm Custom Fields before continuing
Confirm fields Return to product
You must be 21 to enter
Please confirm your age.